MEET OUR STAFF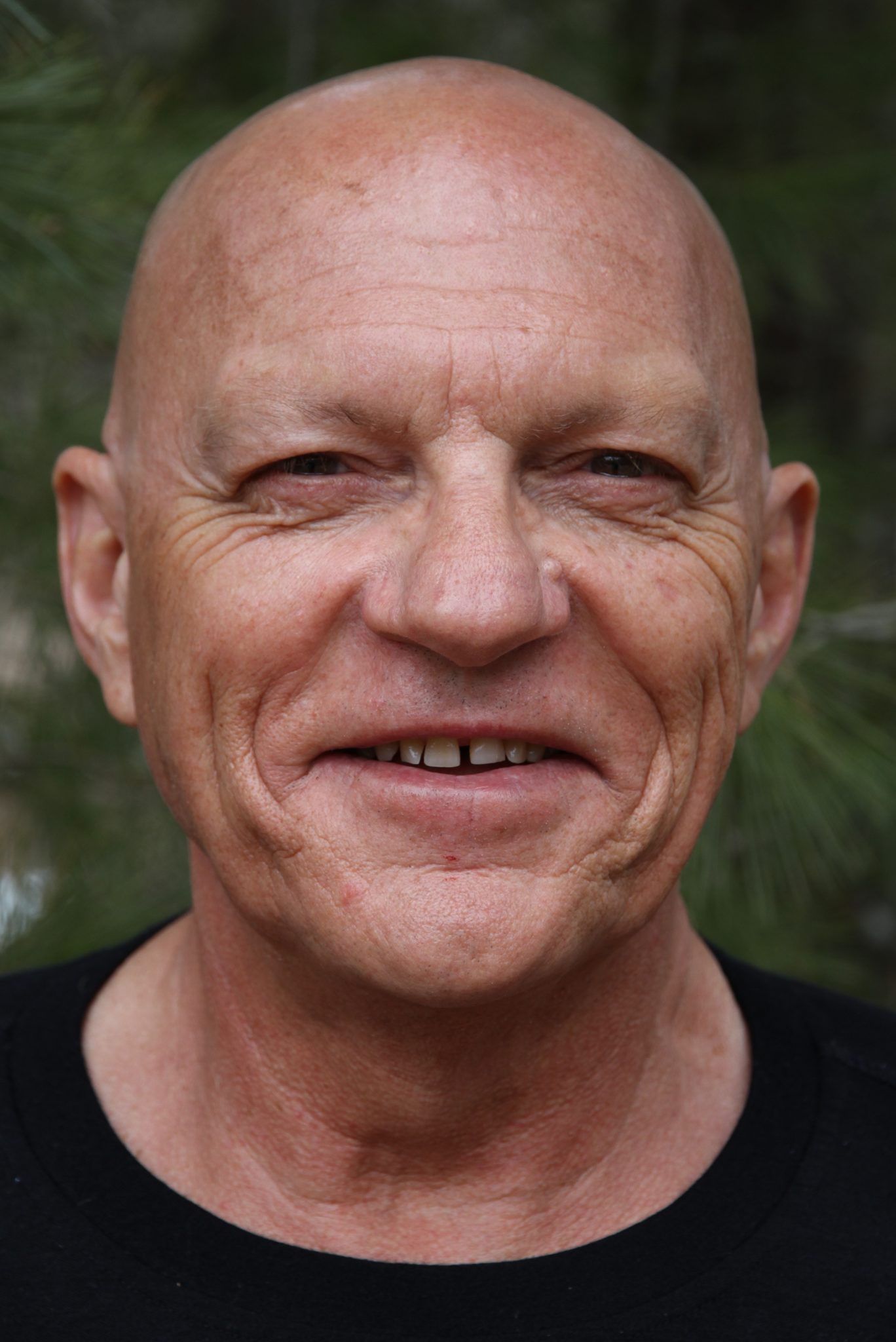 Bill Steer, OCT
General Manager
bill@canadianecology.ca, ext 570
Bill Steer a.k.a. "Back Roads Bill" is the General Manager and "the originator" of the Canadian Ecology Centre, a leading environmental science/outdoor education centre.  Most of his working experience  is within the field of environmental education and special education with the Near North District School Board and the Simcoe County Board of Education.
He is also the Director of the National Green Check GPS Certification Program. http://greencheckgps.ca which administers three levels of geomatics' certification.  See the Letters and Certification tabs on the website.  He studies "lost person" behaviour and spatial awareness as it pertains to human behaviour in the outdoors.  He worked with Dr. John and Mary Theberge on wolf research in Algonquin Park.  He has authored a variety of natual and cultural books and thematic maps.
He holds degrees and diplomas from Laurentian University, Nipissing College, McMaster University and Durham College.  He teaches  senior geography for Nipissing University's Faculty of Education, B.Ed. program.  He co-teaches the Outdoor Experiential Education option for B.Ed. candidates; along with the Additional Qualifications (Ontario College of Teachers) for Environmental Science and the new Outdoor Experiential Education qualification for teachers.  He teaches geomatics (GIS/GPS/imagery) as a course within the Environmental Technician Program at Canadore College.  He is a first aid instructor and is learning to become a yoga teacher.
He can be found at:
GPS Coordinates WGS Zone 17 T  E 663576 N 5129113 (NAD 83) and
Lat. N 46 17.870'  Long. W 78 52.567'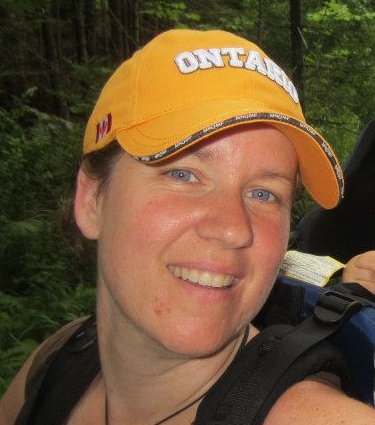 Laura Kielpinski, OCT
Director of Operations & Education
laura@canadianecology.ca, ext 575
Director of educational programs for youth and adults and oversees the general operations at the Canadian Ecology Centre, Laura has worked at the CEC since January 2002.  She is a qualified teacher who is involved with the development and delivery of school/youth programs and the high school credit courses. Laura is also a GPS Instructor and Instructor trainer for the National Green Check GPS Certification program and an instructor for with the Canadian Wildlife Federation (Project Wild and Below Zero Workshop Facilitator)
She holds a honours degree and diploma from Laurentian University in Physical and Health Education (specializing in Outdoor Adventure Leadership) and an Environmental Science Diploma.  She has also received her Bachelor of Education from Lakehead University in Outdoor Experiential Education. She teaches and has taught the Outdoor Experiential Option Course as well as the Environmental Science and Outdoor Experiential Education Additional Qualification courses for the Faculty of Education at Nipissing Univeristy.
Laura holds certification and training in Standard First Aid and CPR, Wilderness First Aid (80 hour WFR), National Lifeguard (NLS), ORKCA (canoe training), risk management and safety planning.
Her passions and interests include sharing her love of the natural world with all those around her and helping others to find comfort and enjoyment from spending time in the outdoors.  She enjoys being active in a variety of outdoor activities (mt.biking, canoeing, hiking, cross country skiing) with her family and two young children.
Coral Bissett, OCT
Education & Events Coordinator, Website/Social Media Administrator
coral@canadianecology.ca, ext 636
As the Bilingual Education and Events Coordinator, functioning as the liaison between visiting groups and the CEC, Coral has been with the CEC since 2007.  She works closely with the Director of Operations & Education to create, enhance, and document in writing all educational programs, assists in the daily operations of the CEC, coordinates special events, works on marketing and delivers educational programs and material in both English and French.  She manages the CEC website, and social media pages.  Coral is also an instructor for the National Green Check GPS Certification program.
Coral holds an Honours Bachelor of Arts degree in Environmental Studies and Geography from Queen's University. She obtained her Bachelor of Education degree from Nipissing University (specializing in Junior/Intermiediate Geography and Outdoor Education, and an AQ in Senior Geography). Coral is a member of the Ontario College of Teachers, and holds certification and training in National Green Check GPS Certification (Levels 1, 2, 3), the Ontario Recreational Canoeing and Kayaking Association (ORCKA, Basic Canoeing Levels 1-4, Canoe Tripping Level 2), Standard First Aid and Advanced Wilderness First Aid. 
Coral has a love of the natural world, and enjoys canoeing, backpacking and photography, and helping others to discover an appreciation for the outdoors.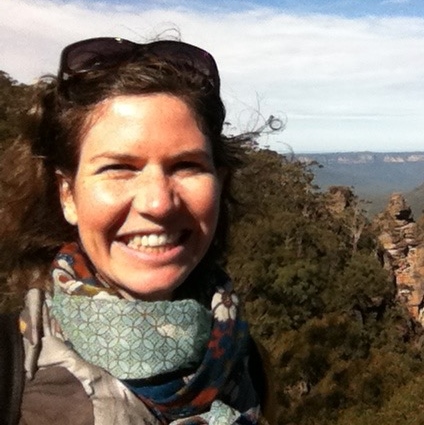 Heather Dabrowski, OCT
Camp Coordinator
As the Camp Coordinator for the Summer High School Credit Course Program, Heather is the liaison between students, parents, teachers and our Recreation Staff. She has worked each July at the CEC since 2011. Heather worked full-time at the Canadian Ecology Centre in 2012 and keeps coming back each summer to coordinate the Credit program. She works closely with the Director of Operations and Education, Events Coordinator and Head Master leading up to the Credits, and during the month of July. She focuses her time on the needs of the students, teachers, and parents through positive communication between all parties.
Heather holds an Honour's Bachelor of Arts in Social Development Studies, and International Studies option through the University of Waterloo. She completed her Bachelor of Education at Queen's University with an Outdoor and Experiential Education Specialty. She holds Additional Qualifications in Special Education Part 1 and Reading Part 1, through Nipissing University. Heather has taught at Escola das Nacoes, in Brasilia, and first level English classes in the Amazon region of Brazil. She has also taught in Gr. 1/2 in Huntsville, Ontario
Heather is certified in her Advanced Wilderness First Aid, Standard First Aid, and National Lifesaving Society. She also holds her Basic Canoeing Certifications, (Levels 1 – 4) through ORCKA and has worked as a Camp Canoe Instructor.
Throughout the year, Heather can be found travelling this beautiful world. She has spent time out west in Canada and the United States, in Australia and New Zealand, as well as Thailand, Malaysia, and many parts of Europe. She loves to spend time outdoors hiking, cycling, gardening, canoeing, and cross-country skiing. She spends her free time around the campfire with music, learning languages and about other cultures, cooking, doing yoga, and taking time to laugh with children.
Our exciting education staff
From left to right: Zach, Cedar, Karen, Chris, and Taylor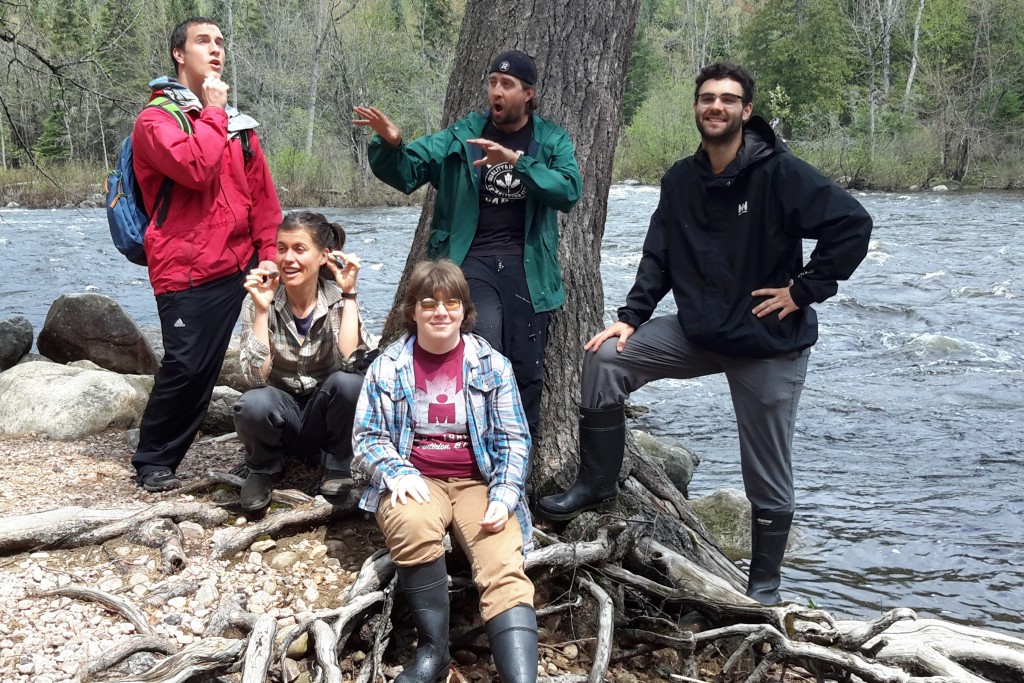 Our amazing front desk staff
From left to right: Dawn and Kristen