More About Our Company
The Canadian Ecology Centre, within its 15th year of operation, has received a donation from the North Bay Astronomy Club.The telescope worth about $30,000 is one-of-a-kind in Northern Ontario.The project goal, which includes educational materials to support a new astronomy program is estimated close to $100,000.We have  already raised almost 90% of the required funds and are now entering into our final campaign to raise the last $10,000!This telescope needs a home and the new project is a modest 12' x 18' observatory with a motorized retractable roof.  It will be located adjacent to our classrooms and will be utilized within our environmental and educational programs.We are seeking your support to help us reach our final goal so that construction can begin this spring!There are many ways you can help support this fundraiser!FUNDRAISING EVENT "A Night out with the Stars!" - Rescheduled to FRIDAY OCTOBER 24th , 2014
Only $100.00 per person!  OR
Corporations/Companies can purchase a table for 10 people for $800.00
Join us for a dazzling evening, celebrating the launch of the new telescope observatory and join us in thanking the North Bay Astronomy Club for their gracious donation.  Enjoy dinner, presentations and an evening viewing of the night sky with telescopes and night vision monoculars, bonfire and wolf howling.  To reserve a seat, please call (toll-free) 1-888-747-7577 or (local) 705-744-1715.
Consider making it a weekend event and enjoy your second night's accommodation for FREE!
Consider giving a DONATION to the CEC Educational Foundation.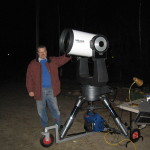 You can purchase the following as a donation level or chose your own amount:
Meteor

                         $100.00 – includes name on wall plaque

Star

                                $500.00 – includes name and short message

Planet

                           $1000.00 – includes name and inscription

Moon

                            $2000.00 – includes name and inscription

Solar System

            $______ contact us

Other

                            $_____ choose your donation amount!
Tax receipts will be issued for donations of any amount.
  Click on the buttons below for more information and how to donate.  
 Fundraiser Poster     Donation Form    Night Out With the Stars Poster
Read More